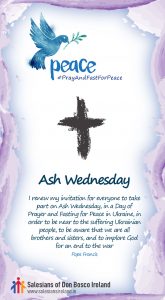 In the last few days, Pope Francis has invited us to use the Ash Wednesday to pray and fast for Peace. He said: "I renew my invitation for everyone to take part on Ash Wednesday, in a Day of Prayer and Fasting for Peace in Ukraine, in order to be near to the suffering Ukrainian people, to be aware that we are all brothers and sisters, and to implore God for an end to the war."
Let each one of us join in this act of unity with suffering people not only in Ukraine but all over the World, where there is a lot of places of sorrow and hardship. And let us give thanks and glory to God for all that we have received.
May God bless you and keep you safe at all times. May this journey of Lent be for you a journey of coming closer to God and your neighbour.