The Participation of Don Bosco Ireland Volunteers (DBIV)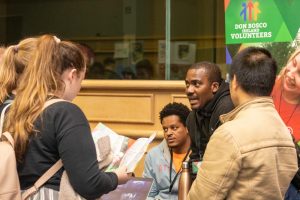 Every year, the Irish Aid Volunteering Fair gives prospective volunteers the opportunity to meet and chat face-to-face with the main organisations in Ireland that offer overseas volunteering placements. This is a unique and valuable chance to discover the many opportunities around the world and to pick up advice and tips from experienced overseas volunteers – and it can be the start of a hugely rewarding journey. About two thousand Irish people travel abroad annually to volunteer on development projects – in Africa, Asia and Latin America. Placements can be one month or longer, and are tailored to many different skill sets.
This year's Irish Aid Volunteering Fair was held in Hibernia Conference Centre, Dublin Castle on 9 November 2019, and among the thirty five organisations represented at the Fair were: Concern, VSO, Goal, EU Aid Volunteers, VIDES and Don Bosco Ireland Volunteers (DBIV). Fr Arek Orzechowski and Wojciech Mroczek from our Provincial PDO co-ordinated the participation of Don Bosco Ireland Volunteers in the Fair.
The young Salesians from the formation house community in Maynooth helped prepare the materials, participated in the Fair and delivered a presentation on DBIV. They spent time with prospect volunteers explaining the Don Bosco charism, as well as volunteer opportunities within DBIV. 20 People showed interest in a voluntary placement with us, and were invited to an orientation day to start the recruitment process and training programme. We have requests from Salesians in India, Ghana, Nigeria, and Liberia for Irish volunteers to assist in their programmes.