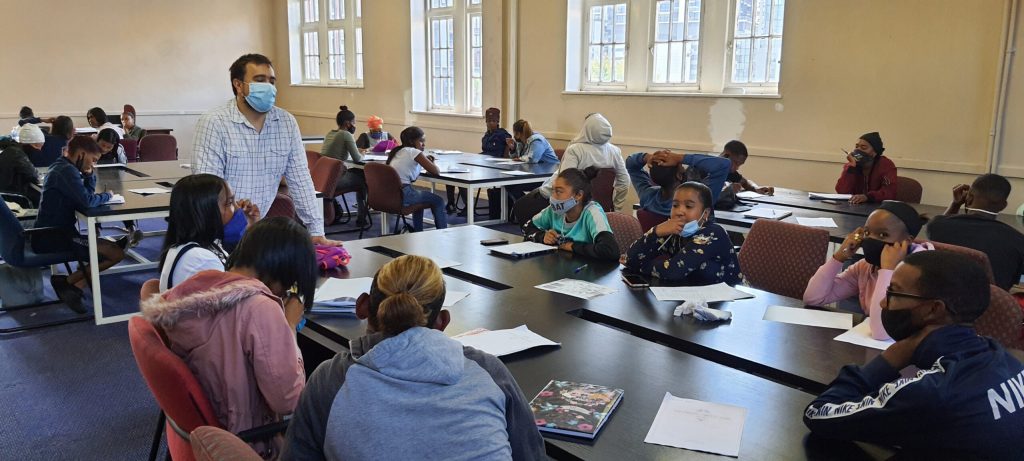 The Salesian NEETS (youth Not in Employment, Education or Training) programme in Cape Town is relatively new and offers education in an innovative and engaging pedagogy. In line with Learn to Live's Project-based learning (PBL) approach, it adopts the same platform to develop work readiness for youth at risk that have not completed their basic education.
This programme will lead, in time, to a Further Education and Training Certificate in Generic Management. The emphasis is on the design and facilitation of high quality learning experiences that are relevant to learners in today's rapidly changing technology-driven world.
The NEETS beneficiaries (who are aged 18 to 26) are recruited from specific disadvantaged communities within the greater Cape Town area in order to create a critical mass tipping point of social change within the beneficiaries' communities.
The Programme is a 12-month programme consisting of 3 modules:
Module 1 – Foundation Module (16 weeks)
Learning takes place on-site at the Salesian premises in Greenpoint, Cape Town. The first week concentrates on Orientation. The weeks following roll out 15 PBL Projects where the learning experience design focuses on: on:
Five themes; personnel; social; economic; material; natural world
Learning to learn: Executive functions, Social Emotional Learning, Multiliteracy
SAQA unit standards: Team leadership, communication, quantitative and qualitative
Module 2 – 16-week Internship in Social Enterprises (16 weeks)
Learning takes place within the community with weekly visits to the SIYP premises. Once again the initial week is one of Orientation. Thereafter 3 x 5 PBL projects are rolled out where the learning design focuses on:
Asset based youth development
Asset based community development
SAQA unit standards: Management practice , communication, quantitative and qualitative literacy
In Module 3 – Organisation Module (16 weeks)
Learning takes place within a partner organisation of choice, developing organisational and work literacy skills, with biweekly visits to the SIYP (Salesian Institute Youth Project) premises. SIYP partners of preference are largely located in three industries: Hospitality; Food & Beverage and Wholesale/Retail. Within reason learners will have the option to do their learnerships/internship in one of these industries.
Once again, Orientation is the foundation, this time for two weeks. Thereafter 2 x seven week PBL projects take place within the organisation of choice, where the learning experience design focuses on:
Seven SAQA elective unit standards that are industry focused
SAQA unit standards: Team leadership, Management Practice
Supporting the skills training and employment of these unskilled, young individuals will empower them to lead active, productive, and successful lives, thereby counteracting inequality, and elevating destitute communities out of poverty.
This programme is supported by Don Bosco Aid Ireland through Misean Cara 20,000 Eur grant for 2021.