Saint Catherine's Society in Maynooth went on a trip to Poland
At the end of January 2020 before the world went into lockdown a group from St. Catherine's Society in Maynooth went on a trip to Poland. The group was comprised of students, 3 Franciscans and Salesians, altogether a group of 16. This trip was our second overseas trip following January 2019s successful trip to Malta and Turin. The trip was a chance to see Salesian Work in another country and learn more about it as well as getting a bit of sightseeing in.
Day 1 : Arriving in Krakow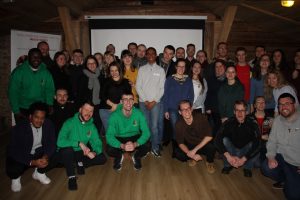 Upon our arrival in Poland we were collected at the airport and brought to the Salesian Seminary where we would stay for the week. After settling into our rooms we got to sample some Polish Cuisine prepared by the Salesian House. After this we had a short meeting so the group could be familiarised with our hectic schedule for the next few days.
That evening we met the Salesian Missionary Volunteers, with whom we attended mass, and following this had a meeting with them including food and dancing!! This was a small taste of what was to come and you could feel the buzz of excitement within the group.
Day 2: Sightseeing in the City
The 2nd day was an early start, something that would become customary on this trip. After breakfast we headed off to a Salesian School where there was a winter camp for primary school children taking place. This was a great experience for the group to meet some of the Animators and see some of their work in action.
We also had a lovely lunch there. Afterwards we went into the city itself. We took a guided tour with our guide Tomas who showed us the many important and stunning sights of Krakow. He also told us many of the interesting stories from the history of the city. That evening the group had some free time in the city to wander around and take it all in.  Krakow in the dark was stunning.
Day 3: Visiting Częstochowa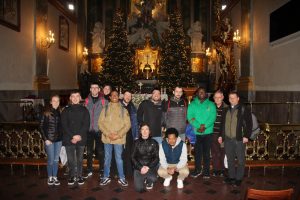 Another day brought another early start as we headed off to Częstochowa. This was a 2hour bus journey away. To split up our journey we made a stop at a Salesian School where Fr Mirek taught in the past. We were given a tour of the school and also met some of the classes.
Afterwards we made our way on to Częstochowa where we visited the Black Madonna Shrine, we had a tour and afterwards we celebrated Mass there. To finish off the day we met the novices of the Polish Salesian Provence where we had dinner followed by plenty of singing.
Day 4: Oświęcim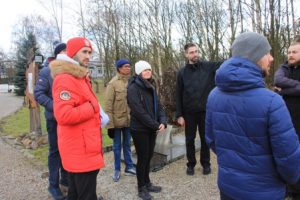 We started off close to home at the Mission Park where we got a guided tour and visited a number of different countries. Afterwards we went to Auschwitz Death Camp and once again took another tour. This experience evoked many emotions in the group.
The mood leaving the camp was sombre but a visit to a Salesian Secondary School and a meeting with some young people in the Oratory lightened the mood. We had dinner, and afterwards we danced, played games, and got to know each other. This was an uplifting end to the day.
Day 5: The Feast of Don Bosco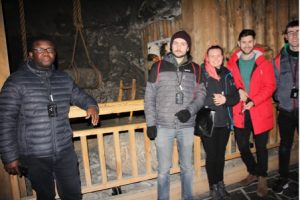 This was a big day. We started off with a trip to Wieliczka Salt Mines. The passages and chambers there were stunning!! It was hard to believe that these chambers were made so far below ground, especially the church. After this we had a few hours of free time in Krakow. This was our last time in the city itself.  During this time Sara and I went and done an interview for a Polish radio station about the Salesians presence and work with young people in Ireland. At 5pm we joined in the celebration for the Feast of Don Bosco at the Salesian Seminary.
After the Mass there was a meal followed by different games. To finish the night there was a game of 'Tombola' (bingo to us Irish folk). There were loads of prizes and the  group came away with a few of these. It was a brilliant celebration of such an important day.
Day 6: The Last Day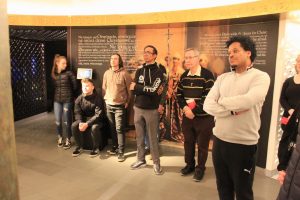 The final day was another early start and had a packed schedule. The first stop was at the Devine Mercy Sanctuary  where we celebrated a Mass. After this we went to Wadowice, the birth place of JPII, we got to see the JPII Museum which is in the house he was born. Our last stop in Poland was in Skawa at an Oratory where we met more young people.
We had a very competitive game of football and afterwards we had food and were taught some new dances. After a few hours of craic it was back on the bus and back to Krakow. It was a great end to the trip finishing in high spirits.
Day 7: Back home again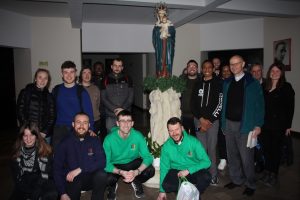 It was time to go back to Ireland. We left the Salesian Seminary for an early morning flight back to Dublin. Everyone boarded that plane with fond memories that they will never forget.
The trip itself was extremely fruitful. There were memories made that will last a lifetime, there was also many friends made and links established. The country itself is stunning and some of the places we visited were breathtaking. Many of the students including myself noted the experience's we had meeting other young people in the Salesian Oratory's. We feel that we learned a lot from them and hope that we can take some of these things back to our own Oratory in Maynooth. We are very thankful to the Salesians in Krakow for the opportunity to visit and all the work they put in. The real question now is, where next?
Seán Sweeney, President of St. Catherine's Society