Journeying with the Salesians in Bangalore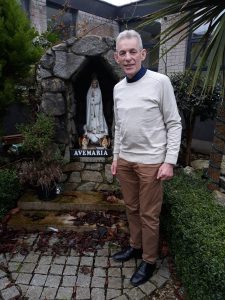 India! A hugely populous and developing country, with an overall population of nearly one and a half billion people. As over sixty percent of its citizens are under the age of twenty, poverty is widespread and the burgeoning towns and cities are hosts to slums where the poorest are forced to live. Despite the best efforts of central and state governments, many people in these areas often have little to eat and with hunger and disease widespread, education is considered a low priority. Unscrupulous exploitation while working in inhuman conditions, is often the lot for many children that inhabit these poorer areas of the towns and cities. It is in these the more destitute areas that you will find organizations striving to improve, through charitable works and also through education the lives of the people living there. The Salesians are but one of these organizations and their presence, throughout India is widespread.
As my working life came to an end and I eased into retirement I found that I had some time to spare. I decided to offer my services as a volunteer and possibly be of service to others less fortunate than myself. I always had a desire to do this type of work and in the main it stemmed from my mother's example. My mother was a tireless worker and supporter of the missionary spirit right throughout her life. I remember her sitting quietly and knitting various garments such as socks, gloves, hats and also making soft toys, all of which would be collected for delivery to those in need. She was a staunch supporter of a local priest who spent the greater part of his life on the foreign missions. She was also active in an organization that taught her craft-work and she in turn would voluntarily teach others those self-same skills. Even when times were difficult my mother maintained a subscription to one or other of the magazines produced for the benefit of a missionary organization. Growing up in this atmosphere undoubtably left its mark and I found myself doing occasional voluntary work during my working life. 
After some research I decided to approach the Salesians in Ireland and volunteer to work in one of their projects where I could possibly be of some service. After tendering an application, I met with Wojcieh Moczek, Mission Office Development Coordinator and Fr Dan Carroll director of the DBIV for some preliminary discussions regarding my suitability as a candidate for one of the many Salesian projects throughout the world.  I was soon notified that my application was successful and I entered into a training phase that would prepare me for a future assignment. A number of locations were looked at and it was decided, given my experience that India would be a suitable place for me.  BREADS, whose director Fr Joy Nedumparambil, handled my placement in India, is based in Bangalore and is an umbrella organization for all Salesian charity and voluntary work in the state of Karnataka and Kerala.  It was suggested that I work in the Don Bosco technical institute in Hassan, a city of nearly 200,000 people some 200 kilometers west of Bangalore.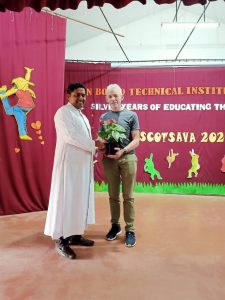 Arriving in Bangalore on March 1st I was met at the airport by Fr Joy who brought me to the Provincial House where I spent a few days in meetings to finalize my placement and to acclimatize to the food and heat of India. I then travelled on to Hassan where I was to fulfill my role as volunteer in the Institute there. I was met with a heartfelt welcome at the institute and was introduced to the director Fr Domnic Savio, principle Fr Dinnesh, Fr Felix farm manager and Fr Pius counsellor, lay brothers Pavil and Johnson and a full assembly of the students and teachers. Even in these early stages it was obvious to me that this was a happy place and that I would enjoy my time there. 
The institute provides a place of education specifically for young people at risk. Courses in electrical, engineering and motor mechanical trades are run and there is also a course in computer skills. Some 150 students both residential and day pupils' avail of the opportunity to learn a skill that will help them to make a life for themselves and their families in the future. Under the expert care of director Fr Domnic Savio and principle Fr Dinnesh the academy is extremely well managed and the boy's day, while long is very well structured. The day, consisting of classwork, study, games, prayer and general work, would commence at around 7am and end at 9pm. The residential students under the watchful eye of Br Pavil, appeared to be very enthusiastic with copious amounts of energy especially when it came to playing the games of volleyball, basketball or cricket, even the board game of Carrom was engaged in with great excitement which could become infectious. Their classwork was undertaken with a serious approach which indicated the importance of education to these young students and their appreciation of this opportunity. General work consisted of cleaning, caring for seedlings and plants, looking after exotic birds, animals and fish and looking after the fowl that produced eggs and meat for the community. Shelling of coconuts for use in the production of oil used in cooking and the cutting of firewood were all part of the work undertaken. As for me every effort was made to suit my skill set to the work being requested, showing the importance of having a detailed understanding of ones skill-set before arriving to complete such a placement. Helping with elocution and voice projection was one of my favorite tasks, there was great interaction and it gave me an opportunity to get to know the students. This was done outdoors, early in the morning and was a very pleasing task before breakfast. Working in the library and many other tasks were all part of my daily schedule.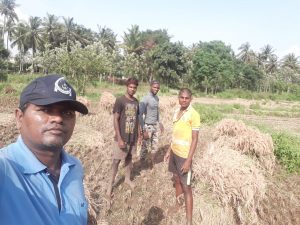 After lunch we would journey to the farm which could only be described as a veritable food forest. This is a project that supports the food requirements of the school, supplying a variety of grain and fruit with also meat and milk on a lesser scale. There was also a commercial aspect to the farm with a big plantation of Coconut trees and Areca nut trees supplying the main crops for sale with a more recent inter-cropping of Moringa, Avocado and a number of other tree species pointing to the future direction of the farm. The main fruits were banana, pineapple, chikoo, papaya and mango. There was a further inter-cropping of ginger and turmeric also being carried out there. Rice and corn are the main grain crops, and an intricate irrigation system using water from a nearby lake, and boreholes sunk on the farm, is used to keep a supply of water to all plants and crops.  An innovative system of vermiculture for the production of compost, supplies the farm with a source of nutrient rich fertilizer. Future hopes are that this can be extended and compost produced on a commercial basis. The farm managed by Fr Felix has all the hallmarks of a model-farm and is used by the state government to demonstrate good farming practice to farmers in the district. 
Other works engaged in by this community consist of ministering to the local Carmelite and Mercy nuns. I was able, to my delight, accompany Fr Domnic Savio on some of these occasions, and the mass in the Carmelite convent was a sublime experience. Fr Domnic Savio also had a deep understanding of theology and philosophy and this led to many interesting discussions over the period I was there. As has been carried in the news recently India has a large migrant worker population and Hassan has its share of these workers also. Following the Covid-19 lockdown many of these workers found themselves stranded, and with no source of income or food faced a very bleak time ahead.  Fr Domnic Savio soon recognized this problem and quickly began organizing food parcels containing rice, lentils, vegetables and spices for those most in need. This, now is being done on a state-wide scale by BREADS under the direction of Fr Joy. The Institute is also engaged in the provision of aid and expertise to people nearby who lost their homes and livelihoods as a result of a natural disaster.
Unfortunately, my journey was overtaken by events at home and I was obliged to return early to be with my family, who were caught up in the middle of a health crisis. It is my intention, God willing to return one day to complete my mission and to that day I look forward.